On Monday morning, the number of Battlefield 2042 (test) players dropped below 1,000 users for the first time. The average values ​​are also still on the downward trend. The shooter's downward trend continues and his resurrection has now become highly unlikely.
The trend has been going on for weeks
As early as February, the outlook for the unfinished shooter was bleak. The number of players fell below the level of the immediate predecessor a good two months ago. At the same time, EA assured that it wanted to stick with Battlefield 2042, but only announced things in nice terms that should have been in the game from the start and should almost be a given in titles. modern.
The first season of new content has been delayed to the summer for follow-up work, also keeping in mind that Battlefield 2042 ended up in the ten worst games on Steam at a select company due to long lists of defects after the start of sales. Also in April, only 28% of all ratings on the platform were positive, in recent days it was only 18%.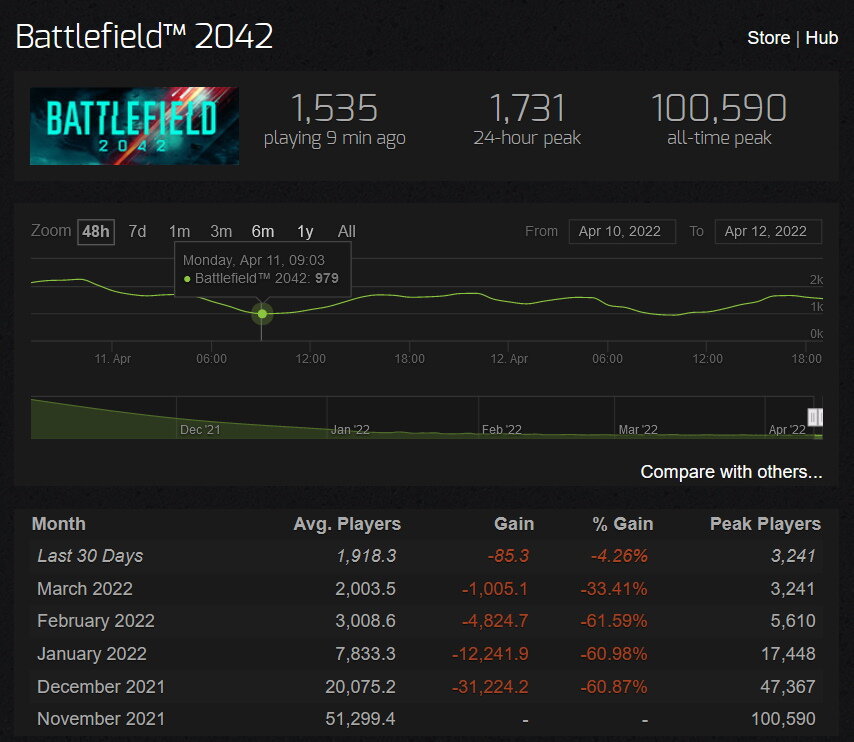 It is becoming increasingly unlikely that a revival will succeed. Incentives are needed to bring back players who have migrated, but there are currently few signs of them. A player base should not be lost either. Even Fallout 76, which initially needed improvement, managed to attract more players than Battlefield 2042, even at the worst times. twice as many interested parties and Battlefield V even quintupled among users.
Further development is probably no longer worthwhile
The Steam Charts numbers are only approximations, but the trend is clear: Battlefield 2042 is currently only going down, with the end in sight. Because less than six months after its release, hardly anyone is still playing. Longer development makes less and less financial sense if development teams can also be used to build the intended Battlefield universe and a new unencumbered game. It now seems unlikely that innovations will be filed on a larger scale for two years, as was the case for older parts.