Deutsche Telekom expects mobile data volume to grow by 30-40% per year assuming user behavior remains the same. Last year, around 1.83 billion gigabytes were transmitted on Telekom's mobile network. Additional frequency resources must meet growing demand.
Deutsche Telekom's more than 53 million customers carried 230 million gigabytes more on the mobile network last year than the year before. Between 2015 and 2021, the volume of data in mobile communications increased ninefold and, according to the Federal Network Agency, now stands at 5.16 billion gigabytes last year. In order to be able to meet demand in the future and to further expand the networks, Telekom contributes to the use of frequencies in the range below 700 MHz and above 6 GHz.
disadvantage compared to neighboring countries
Frequencies are a rare commodity in Germany, explains the network operator, which not only telecommunications companies but also other players such as broadcasting companies, the military or amateur radio operators have to share. In Germany, 990 MHz of spectrum is currently available in various frequency bands distributed across all mobile operators. The company criticizes the fact that this amount does not correspond to the total number of frequencies intended for mobile communications in Europe, since approximately 250 MHz are currently exempt from policy and regulation for other uses such as private industry or the army. Compared to operators in neighboring European countries, German network operators are therefore at a clear disadvantage, explains Telekom.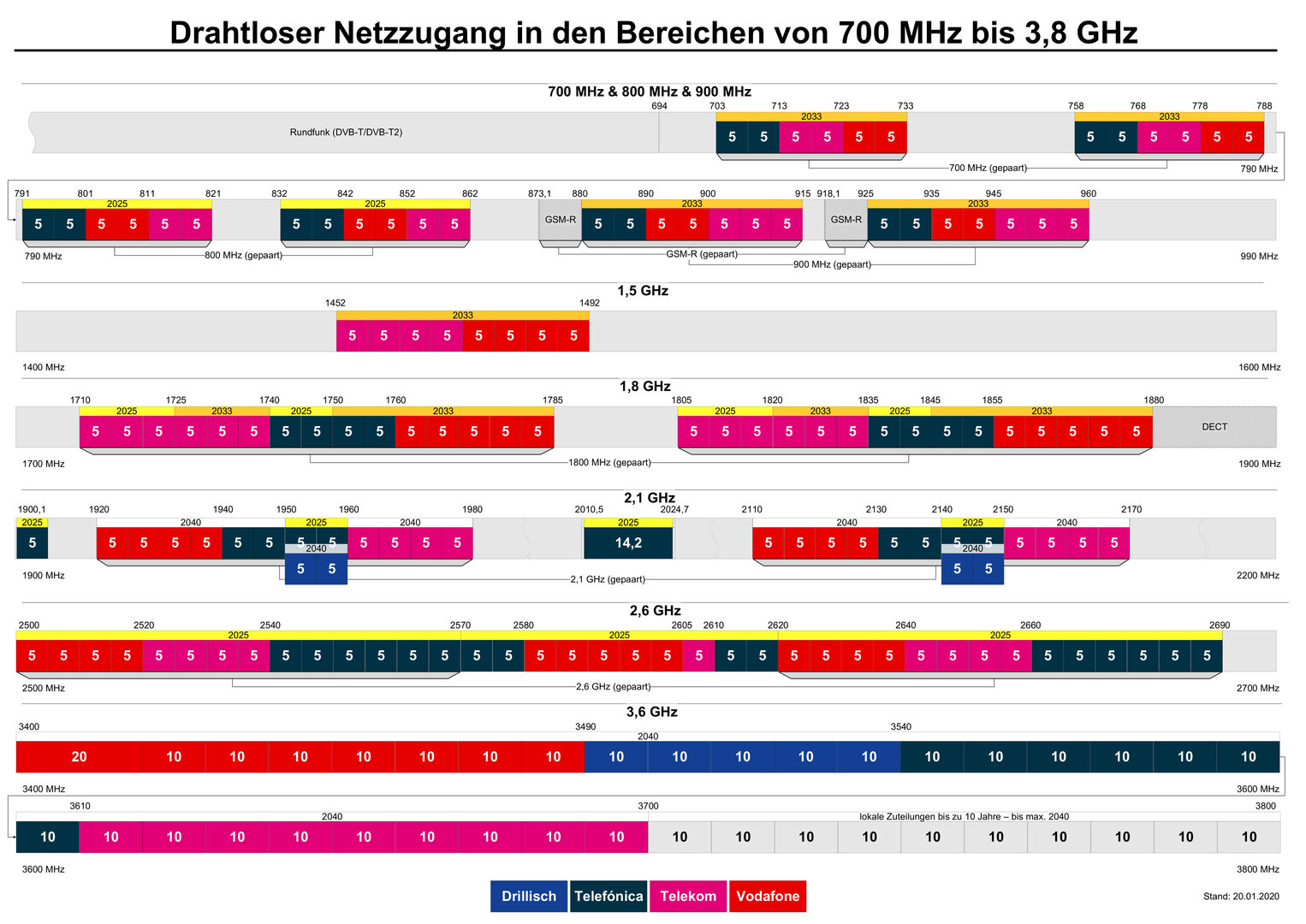 470 to 694 MHz for mobile communications in the area
The medium-term requirements from customers, but also from politics, regarding the performance of the mobile telephone networks in Germany can only be met with additional frequency resources. Specifically, Telekom targets frequency ranges below 700 MHz and above 6 GHz. The network operator wants to use the spectrum from 470 to 694 MHz to supply large areas with mobile communications in an economically and environmentally sustainable way. However, this frequency range is used for terrestrial broadcasting (DVB-T2) after the range formerly used by DVB-T was released for mobile communications in Germany as part of Digital Dividend II.
However, in 2025, the European Commission is expected to carry out a utilization review in order to make a decision on the future use of this area. Telekom explains that the basic regulatory requirement for the use of this frequency range by other users such as mobile communications, security authorities or the German armed forces will be met during the WRC 2023. The WRC is the World Radiocommunication Conference, held every three to four years to review and, if necessary, revise the use of radio frequencies. The 2023 WRC is scheduled for mid-December 2023 in the United Arab Emirates.
6425 to 7125 MHz for gigabit in cities
Additionally, Telekom wants to use the frequency range of 6425 to 7125 MHz in the 6 GHz band to increase network density in cities. The high bandwidth of this spectrum is intended to power densely populated regions and download speeds of "no problem" enable more than 1 Gbit/s. This is the only possibility for cities to be able to offer additional 5G capacities there. Strictly speaking, the 6 GHz band refers to the range from 5925 to 7125 MHz, but the first 500 MHz is for backhaul. At WRC 2023, the allocation to 6425 MHz with the use up to 7125 MHz for IMT (International Mobile Telecommunications) in Region 1 will also be discussed. Region 1 covers Europe, Russia, the Middle East and Africa.