Gaming News The Witcher 3: PS5 and Xbox Series Versions Trapped in 'Hellish Evolution'?
Almost a year and a half after the release of new machines from Sony and Microsoft, the PS5 and Xbox series, some games that launched on previous consoles are missing. If Grand Theft Auto 5 caught up on its delay last March, one of CD Projekt's biggest games, The Witcher 3, still hasn't committed to next-gen. Responsible for a more than chaotic development?
A bad pass for The Witcher 3?
Prisoners of a series of bad news, the CD project teams had to force themselves to announce The release delay of The Witcher 3 At PS5 and Xbox series. This umpteenth announcement surrounding this next-gen version of the game was accompanied by little information on a possible release window, with the studio being content with only indicating a postponement "until further notice". An announcement that, while not exactly reassuring, CD Projekt was quick to share some pretty spectacular figures regarding The Witcher license to balance it all!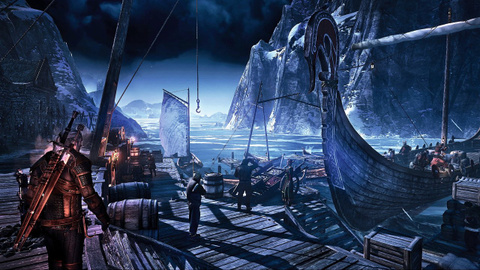 We're reassured the franchise is doing very well and, as the Polish studio also revealed, it hasn't been forgotten ever since Many projects are currently in progress of society. Would this be a way to drown the fish and camouflage the identical reproduction of the evolutionary pattern of? Cyberpunk 2077 ? No, CD Projekt seems to have learned from past mistakes, and the company's senior vice president of business development says so!
The PS5 and Xbox series versions progress serenely at their own pace
The limited data shared by the Polish company yesterday follows a conference call with investors to comment on the past financial year and thus share the results of the latter. From there, Michał Nowakowski spoke about the development terms of the PS5 and Xbox series version of The Witcher 3 after seeing some article titles in the video game's news.
I looked through the titles popping up here and there around the internet and saw one that really caught my eye which is Witcher 3 Next-Gen Indefinitely Delayed which makes it seem like the game is in a kind of hellish development . I want to clarify that this is not the case. There were a lot of hints that we plan to release the game in June next year or something like that. It's not the case at all. — Michał Nowakowski, Senior Vice President of Business Development at CD Projekt

We're just saying that we've been developing the game internally and it's being finalized internally. We evaluate our time, which requires a little research – that's all we say. Nobody is saying that the game will be delayed with a monumental delay (…) I really want to emphasize that fact. — Michał Nowakowski, Senior Vice President of Business Development at CD Projekt
For his part, CD Projekt Co-CEO Adam Kicinski upped the ante by talking about the current state of the next-gen version. according to him There's not a lot of work to do on the upgrade and due to future studio plans, only 15 people are working to get this build right for the PS5 and Xbox seriesso as not to affect subsequent development: the extended delays are finally being explained!
---

Of JinxebWrite to jeuxvideo.com
pm