Slide phones were commonplace in the pre-iPhone era of button phones. Now, it looks like Samsung may return to that form factor while putting a new twist on slider smartphones with a transparent display.
TL; DR
A Samsung patent shows a sliding smartphone with a transparent screen.
The transparent display could use so-called back-to-back technology.
Two forms of cursor concepts can be seen in the patent.
At the end of 2021, Samsung had already patented a smartphone with a transparent bifold screen. Now we see another patent with a new form factor, but this time based on a transparent display.
Transparent elements in mobile phones are nothing new: LG already produced a phone with a transparent glass keyboard, the LG Crystal, more than ten years ago. However, the keyboard at the time was not a transparent screen – about a decade ago the highlight was that there were no keys or wires to be seen at all. However, the LG Crystal remains a flashy niche product due to the high price and clunky key field function.
Samsung Slide phone like Galaxy Z Slide in the future?
Samsung's new patent, discovered at WIPO (World Intellectual Property Organization), shows a more functional sliding mechanism. The idea is that the sliding screen can be read from both sides. So there would no longer be any reason to integrate a selfie camera into the smartphone – after all, you can just look at the screen when using the main camera. The patent proposes two different form factors for the display of the transparent cursor.
The first form is more of a smartphone that can be moved vertically when viewed in portrait format. Here we can also see from the patent how the preview image can be seen on the back when a selfie is taken with the main cameras. It can therefore be assumed that the display can be read from both sides.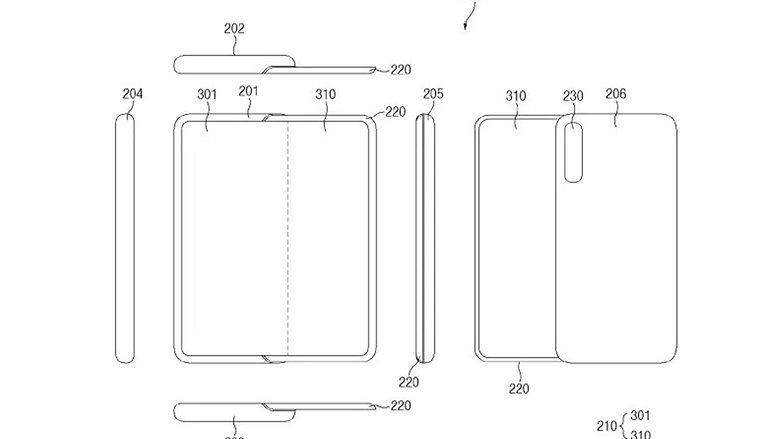 The second form factor sports a larger screen, likely in tablet form, and features a horizontal sliding mechanism. The latter is reminiscent of the different slider concepts with rollable OLED panels, as we have seen on Samsung, but also on Oppo, for example.
What form factor do you expect when it comes to foldable, sliding and rolling smartphones? We look forward to your ideas in the comments!