news culture Super Mario: 36 years later, the animated film is found and restored by enthusiasts!
On December 21, 2022, Illumination (The Minions) will return to theaters with an animated film based on the Super Mario license. This feature film, overseen by Shigeru Miyamoto on behalf of Nintendo, isn't quite the first Super Mario animated film…
Super Mario in the cinema: An obstacle course?
Realized by Aaron Horvath and Michael Jelenicthe next animated film Super Mario will involve many personalities who will lend their voices to the various characters. Anya Tayor-Joy will play Peach, Jack Black will be BowserSeth Rogen will play Donkey Kong Chris Pratt (Guardians of the Galaxy, Jurassic World) will play Mario. This decision disappointed many fans of Charles Martinet, who has doubled the mustachioed plumber for nearly 32 years. However, the latter will be present in the feature film through a cameo appearance that we await to discover. If everything seems to fall into place to make this film a success, The history of Super Mario in the cinema is complicated.
Many still remember the 1993 live-action film that entered the cult film list for its troubles. However, In 1986 there was another filmhow related Romain Mahut on his Twitter account. This is an animated film titled Super Mario Bros.: Peach Hime Kyushutsu Dai Sakusen! (literally Super Mario Bros. : The grand mission to save Princess Peach!). Never heard of it? It is normal.
The forgotten film has been found
On the one hand it was not published in France, on the other hand we thought he was lost! When the film, directed by Masami Hata, produced by Masakatsu Suzoki and Tsunemasa Hatano, and written by Hideo Takayashiki, was released in Japan, it was accompanied by a very low production of videocassettes. Many of them have disappeared and the very rare specimens offered for sale are extremely expensive and non-functional.
very wonderful, Youtuber Carnivol was able to find what appears to be the last playable 16mm tape left in existenceand began work on a restoration and digitization of the film. In 2021 he will be involved in this project by FemboyFilms. The coils were visibly quite damaged, but the 4K recovery could have happened:
We are honored to be the ones who restored this film (…). It comes from a 16mm reduction print that was probably being used for small local screenings at the time of its release. This is probably one of, if not THE only, surviving prints in the world, and another Carnivol fan was able to get their hands on it in 2016. He quickly had it scanned and set about restoring it, but eventually hit a roadblock.

That's where we came in. In 2021, years after he began working on the project himself, Carnivol and FemboyFilms agreed to restore the film based on the scan currently in place. While we would have preferred to scan the reels ourselves, the scan provided was more than doable, despite a few added headaches here and there.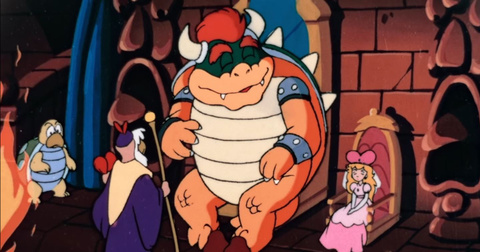 After many months of removing dust and dirt, the restoration work could really begin, but that's how it was the problem of colorimetry remained. To circumvent these concerns, restaurateurs had access to promotional material very well preserved and provided by Forest of Illusion. The subtitles have been cleaned up and corrected while the audio has been kept in Dolby Surround 2. From now on, and unless Nintendo intervenes, the movie Super Mario Bros. – The grand mission to save Princess Peach!continuously 1H01 fully available on Youtube !
---
Of MalloDelicJournalist jeuxvideo.com
pm