The situation is unprecedented. The Nevers Agglomeration Maternity Hospital (CHAN) has been closed since Monday 11 April. The service's fourteen midwives are on sick leave and the regional health authority (ARS) of Bourgogne-Franche-Comté has had to call on the health reserve.
Only emergencies are currently being treated. "We can still take women who are about to give birth, reassures the management of CHAN. If labor isn't very advanced, patients are transferred to a nearby maternity ward. » The Nevers maternity hospital is the only one in the Nièvre department, having been closed several times over the past fifteen years. Between Monday and Wednesday, fifteen women about to give birth were transferred to the maternity wards of Moulins or Montluçon (Allier), Bourges, Auxerre or Dijon, with the nearest being about an hour from Nevers.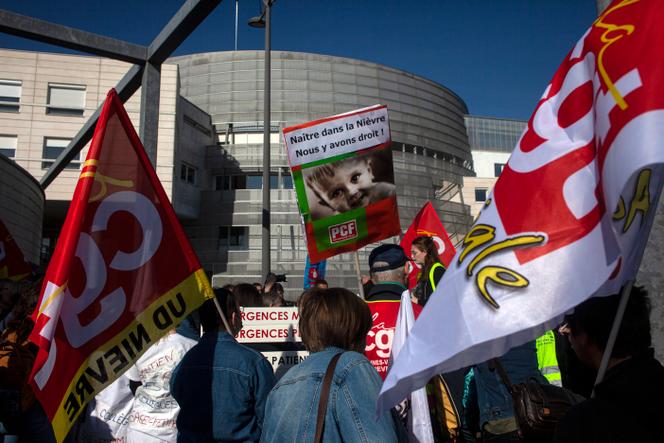 Guillaume Rameau is one of the team members arrested since Monday. He says he has arrived "until the end" physically. "We have been warning of the situation for months, he explains. Since September we have had ten departures from twenty-four midwives. » For him the "drop too much" falls in early April when management announces that the service can now work with two day midwives. Initially, the maternity ward, which performs more than 1,100 deliveries a year, ran at five a day. A ratio that was reduced to four in January, then to three and finally to two. "In delivery rooms we can treat up to six patients a day. Then there are the aftermath of the birth and emergency consultations. Two midwives to do it all? It's an unsustainable pace that doesn't guarantee the safety of women."explains the maieutic.
Psychological pressure
According to management, the vast majority of sick notes were filed on Monday, April 11. Guillaume Rameau says he spent the weekend before quitting running back and forth between birthing rooms before cracking: "I told the patients, 'I'll be back in ten minutes,' and I came back an hour and a half later. We are forced to spend far less time with women. » David Boucher, secretary of CHAN's CFDT section, insists: "This is not a strike movement. It's not a whim. On Monday morning, the nurses just couldn't take it anymore. Many are medicated. »
also read
Article reserved for our subscribers

"An exciting job, miserable conditions": a night with the midwives of a maternity hospital in Nancy
"Some midwives have tied to 13-hour shifts, weekends, nights, says the union representative. They lasted nine months, with a third fewer colleagues. That's where it broke. » He also underlines the psychological pressure that employees suffer: "They constantly work with a sword of Damocles over their heads. The lives of women and children are at risk. And if there is something, the midwives remain guilty. »
You still have 56.03% of this article to read. The following is for subscribers only.