By the end of this decade, Daimler Truck wants to make autonomous trucks operational and offer them as standard. The company already sees itself as a leading manufacturer in the development of autonomous trucks with safety-related redundant drive systems at SAE Level 4 (L4). At this level, the system takes full control for defined applications and then no longer needs to be monitored by the human in the vehicle. With its independent subsidiary Torc Robotics and its partners, the group now intends to massively accelerate development, initially in the USA.
Neither tired nor inattentive, no break
"We are working hard on autonomous truck transport because everyone can benefit from it," said Martin Daum, chairman of the board of Daimler Trucks, last week during a state presentation. art at the company's testing facility in Albuquerque, New Mexico. "Level 4 autonomous trucks will help improve road safety, as autonomous systems will not tire or become inattentive. In addition, logistics efficiency will increase as trucks do not need to take breaks and are therefore more on the road.
Daum is certain that the robotic trucks will help "to cope with the ever-increasing volume of freight, especially in times of driver shortages". "The virtual driver is the perfect driver," said the Frankfurter Allgemeine Zeitung (FAZ). He does not share concerns that many truckers might become redundant. In the United States, about six percent of total annual cargo volume is "autonomously capable," he told Tagesschau. If the volume now increases by up to 50% over the next ten years, but there are already "far too few drivers", then there will be "a good solution" at least for small parts of the traffic of transportation.
According to Daimler Truck, the company's experts, together with Torc, have made "significant progress in autonomous driving" since the takeover three years ago. Typical driving scenarios such as lane changes – but also demanding traffic situations on motorways – were "intensively tested" during this time. Torc has provided proof that its self-driving software can navigate highways safely.
Humans take over on the "last mile"
Meanwhile, the company, which specializes in robotic vehicles, has expanded test operations on the roads and demonstrated autonomous L4 trucks "with extended capabilities in more complex scenarios". The vans are equipped with lidar, radar and camera technology. This enables "driving behavior adapted to the respective situation on service roads and driveways as well as when cornering at intersections".
Daimler Truck sees these machine skills as essential to the hub-to-hub concept it helped develop. In this scenario, the chauffeured trucks are supposed to deliver goods on the "first mile" to the transfer hubs. These are located near highways that are in major US freight corridors. According to the plan, L4 self-driving trucks take over the trailer and cargo there, which they then transport independently over long distances from hub to hub.
As soon as the self-driving tractor-trailers reach the destination transshipment point, people pick up the slack for the "last mile," according to the group. "I can't imagine a 40-ton truck without a driver in city traffic," Daum explained when approaching ARD. At the same time, the mixed concept brings "a major improvement" for work colleagues: "The driver goes home in the evening. No one should be on the road for ten days at a time.
Europe lacks "enthusiasm"
According to Daimler Truck, the United States "with its long highways, growing freight transport needs, large truck fleets and forward-looking regulatory authorities provides an ideal first field of application for the use of this new technology". In Europe, he still lacks the necessary "enthusiasm", Daum told FAZ. In addition, a European legal framework is needed, which should be in place by 2030, the official stressed on the ARD. So see further. In principle, everything from the Freightliner New Cascadia tested in the USA also fits in the European Actros. Germany has already legally regulated fully automated driving at the L4 level.
Daum justifies the industry's rather slow transition to electric or fuel cell drives by saying that in addition to suitable vehicles such as the E-Actros in Europe, the necessary charging infrastructure is needed. The wall box in the garage at home is not enough: "You then need at least 300 kilowatts to charge overnight, or one megawatt." There were even fewer hydrogen refueling options. In addition, the battery-powered truck must "be cheaper to operate – including the purchase price – than the conventional truck". It's not that far yet.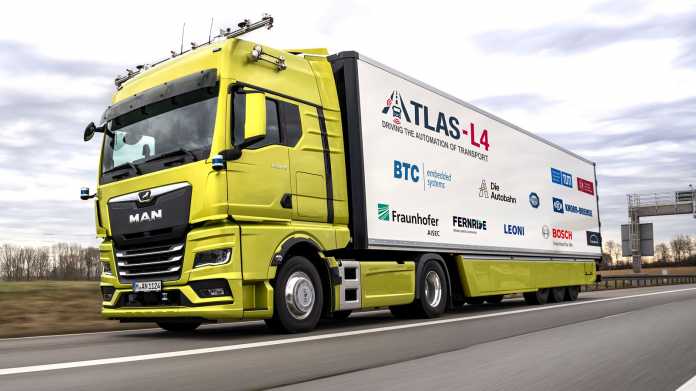 To address next steps and include specific customer requirements at an early stage, Torc is now cooperating with leading logistics companies to execute real-world use cases. Members of the created Torc Autonomous Advisory Council (TAAC) include Schneider, Covenant Logistics, Penske Truck Leasing, Ryder System, CH Robinson and Baton as well as Daimler Truck North America as an automobile manufacturer.

(tw)