Since April 2, 2022, fish in trays sold at Carrefour and Leclerc have been recalled due to the risk of listeriosis. Again, consumers should be careful as this product can be very dangerous. We will give you more explanations in this article.
What is listeriosis?
Listeriosis is a disease caused by Listeria monocytogenes, a small, gram-positive, aeroanaerobic bacterium. It turns out to be very resilient, especially in the external environment. Not to mention that its optimal growing temperature is between 30 degrees and 37°C. The bacteria would be killed after cooking at 60°C for 30 minutes.
Listeria monocytogenes is a bacterium. It is widespread in the environment and is often found in soil, water, plants, but also in many animal reservoirs. That's not all ! It can also be present in the home environment because, unlike most other bacteria, it is psychrophilic. Psychrophilic means it can grow at low or even very low temperatures.
What are the symptoms of listeriosis?
The most common symptoms are: fever, isolated or accompanied by headache and body aches. In addition, according to Rappel Conso, "sometimes serious forms with neurological complications and maternal or fetal damage can also occur in pregnant women. »
Products with Listeria
Recently, Bries, Coulommiers, Camembert and Small Camemberts from the Normanville, Bon Normand, Pâquerettes, Graindorge, Traditions de Normandie and Nous anti-gaspi brands have been affected by the recall.
In fact, we have identified a likely source of contamination, the bacterium responsible for listeriosis, Listeria monocytogenes. It said so in a statement. Listeriosis is deadly. In France, several dozen people die every year from this food poisoning.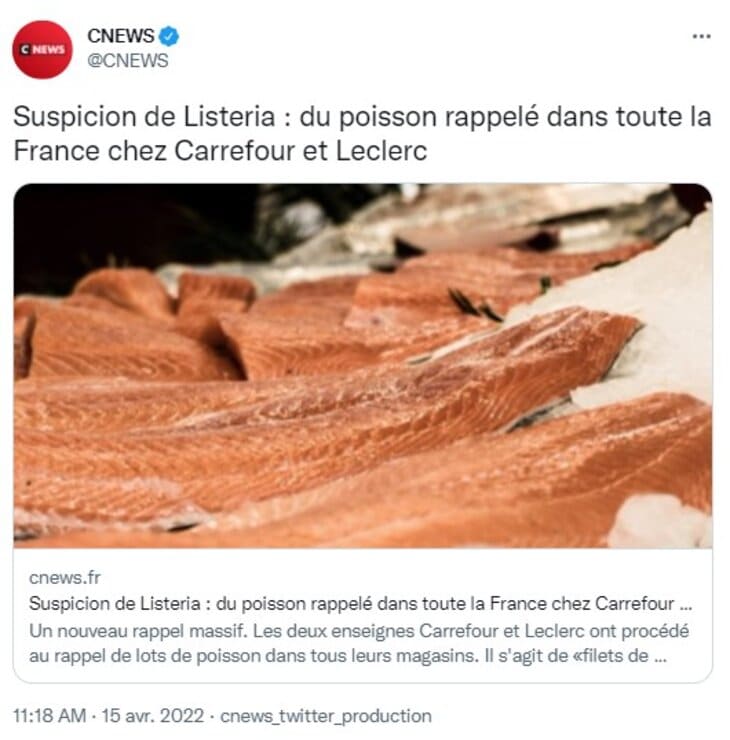 Thus, all products containing listeriosis are subject to a recall. Such is the case with this fish in a tray sold in Carrefour and Leclerc stores.
The smoked haddock fillet, inedible
Smoked haddock fillets are dangerous, according to Rappel Conso. However, it has already been marketed throughout France under the Bourgain et Fils brand in vacuum-packed 200g trays.
This fish is also sold self-service in the fish section of supermarkets and hypermarkets such as Carrefour or E.Leclerc. It has been available since April 2nd under lot 133135. The barcode is as follows: 3284570002139.
The best before date is April 23, 2022. If you have already purchased this fish by then, please destroy it or return it to the point of sale where you will be offered a refund.
A real scandal
Callbacks have become more and more frequent lately. You should know that fish was not the first product to be recalled. There was also soy sauce, but also children's chocolate.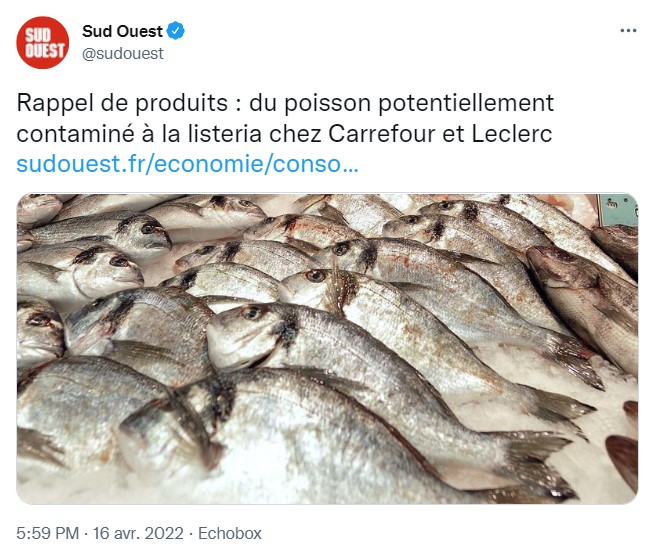 These turned out to be contaminated and eight people were hospitalized in France as a result. This scandal lowered Ferrero's sales figures as Easter approached.
"Yes, the decrease is significant. About -35% compared to a normal Easter week," the manager of an Intermarché de Perpignan confirms to L'Indépendant, BFMTV reported.
Customers are no longer reassured
Normally the shelves of children's chocolates are empty before Easter. Well, that is no longer the case. Consumers are afraid to buy them, preferring to turn to other chocolate brands.
"It's too risky, I don't have confidence anymore. I have the impression that they didn't do enough checks," said a customer from a supermarket on the microphone of BFMTV.
It's a blow for Ferrero. But the drama has continued since the latter was charged. According to the facts, Ferrero would have been aware of the problems at his factory, but he would not have alerted the authorities in time. According to the NGO, Ferrero had identified salmonellosis problems at its factory in December and had been warned of multiple contaminations by UK health officials since March 23.
So the case should be continued…
©️ Tekpolis Editorial Team Any duplication of our articles without our consent will be reported to Google and Facebook