2:05 p.m.
Break time
With that, we say goodbye to the ticker for today and bid a sunny afternoon. Tomorrow my colleague Ruben Zimmermann will be there again to bring you everything important before the Formula 1 race at Imola.
Until then, we wish you a pleasant end of the day! Goodbye!
---
1:48 p.m.
Verstappen is now leader of the penalty table
Max Verstappen is the new leader of the Formula 1 penalty table. But that's not because the Dutchman has now done anything wrong. No, but because Yuki Tsunoda and Lance Stroll each lost a point, they have "only" seven penalty points instead of eight – as much as Verstappen.
Sergio Perez has had exactly the same number of points so far but after two points knocked out he is just five points down. There is a suspension with twelve penalty points within a year.
The full preview is available at de.motorsport.com.
---
1:26 p.m.
Pirelli: C2, C3 and C4 at Imola
Incidentally, Pirelli named the tire compounds C2, C3 and C4 for this weekend, ie the medium hardness range. It's the same selection that was nominated at Imola last year – although of course the tires were completely different.
---
1:14 p.m.
Minardi: Vettel should resign
Former team boss Giancarlo Minardi has suggested Sebastian Vettel quit. The German is yet to score a point after missing the first two races with corona illness and recently having a terrible weekend in Melbourne.
"He had the misfortune to miss two Grands Prix due to COVID, he retired in the third. But he should retire," the Minardi team founder told Italian newspaper 'Corriere della Sera'. "He has a lot of money, he has won a lot of titles and he won't win anymore."
---
12:50 p.m.
Steiner ticked off Australia
More recently in Australia, however, the Haas team scored zero points. At Imola, team leader Günther Steiner is once again hoping for better form after circumstances in Melbourne weren't entirely happy.
"The whole weekend was very difficult. It started with little problems in Mick's car and Kevin wasn't in top form because he wasn't feeling well," explained Steiner. "Despite all these obstacles, we still got closer to the points."
"In the race we were unlucky with the safety cars which could have helped our strategy but we got ahead of Australia. It's not negative but the championship is very competitive this year and you have to be perfect. to get points."
"What I will take with me to Imola is that the car still works well and we will continue to do so in the future. Hopefully we get to Imola with fewer unfortunate incidents."
Will Mick Schumacher finally get his first World Cup points?
---
12:02
The safety car in comparison
Aston Martin's safety car was recently nicknamed the "turtle" by Formula 1 drivers because it was too slow for them. Of course, it also caused a few jokes about Mercedes, which provides the other safety car in Formula 1.
But is the Aston Martin really slower than the Mercedes? We compared the two safety cars once. You can find it in our news.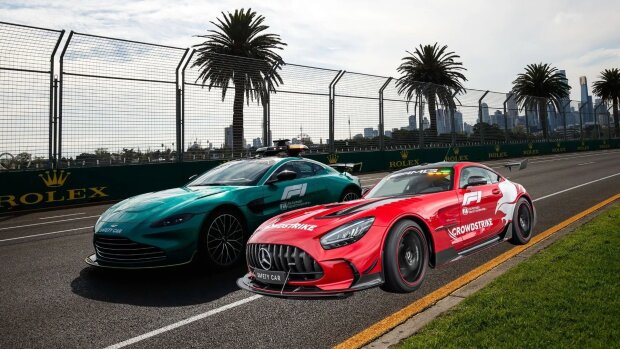 © Motorsport Images
---
11:46
F1 track becomes Corona Hospital
Shanghai is not on the schedule this year, but its route is being converted: the Shanghai International Circuit is currently being converted into an emergency hospital for the treatment of patients with COVID-19. This is how the local authorities have reacted to the current corona outbreak in the metropolis.
More information is available in our news.
---
11:16 a.m.
Interesting: The weather forecast for the Formula 1 calendar
The Meteo Motorsport website has published an analysis of the weather conditions for each Formula 1 race. Singapore is the hottest with an average of 26-31 degrees, while Imola is the coldest. There, the scale goes from 9 to 19 degrees Celsius. Let's see what awaits us this weekend.
Imola has a 29% chance of rain, making it only eighth in the standings. Surprisingly, the first place does not go to Belgium, but to Sao Paulo, where the chance of rain is usually 46%.
Unsurprisingly, the Arab states of Saudi Arabia and Abu Dhabi have the least rain, although it is quite surprising that Le Castellet in southern France is still below Bahrain in this regard.
---
10:41 a.m.
Leclerc: Confidence in development
Charles Leclerc and Ferrari have had a dream start to the season but must continue to work hard to maintain their lead and have a chance at the World Championship. But the Monegasque is confident because he knows how Ferrari works behind the scenes.
"Over the past two years I have really seen a leap in the way we analyzed each weekend: in the way we also identified our weaknesses and how quickly we reacted to try to improve to improve in the areas where we were in trouble," he says.
Keeping up with Red Bull in terms of development is tough, but: "I'm confident the team can do a great job of development this year."
---
10:19
Reunion with Formulino
But the one we hope to see again on Friday is Formulino – also known as Imola Cat. The cat, who comes with his own VIP pass, roams the Imola paddock and has also hosted Sebastian Vettel and Lewis Hamilton in recent years.
Formulino even has his own Instagram channel, and because cat content is so popular, I even did a Formulino post last year, where you can read all about Imola's lucky charm 😉
---
10:04 am
Friday drivers at Imola?
Reader Josefine asks if there will be the first Friday riders at Imola over the weekend, after all our board (here for a preview) is still completely empty in that regard.
Not all the teams have reported it yet, but I can be brief: no, there will be no drivers on Friday at Imola. It's because of the sprint format. There is only one practice on Fridays, so no team is left to a youngster. Otherwise, the regular driver would have to start qualifying without any practice.
It will be the same in Miami afterwards. We don't have a sprint there, but a brand new track. In Barcelona, ​​however, we count on the first missions.
---
09:42
Preview of Imola on the starting grid
Anyone who wants more information before imola can now listen to the latest edition of the Starting Grid podcast, in which moderators Kevin Scheuren and Sophie Affeldt, as well as our editor Christian Nimmervoll, who will be there this weekend, rejoice for the fourth round of the season, look ahead.
Topics include:
– What will happen to Sebastian Vettel?
– The big pressure for Ferrari
– Tuition fees for Mick Schumacher?
– Best of the rest super exciting again!
You can listen to it in our podcast area or at meinsportpodcast.de.
---
09:20
Why not more San Marino GP?
Older Formula 1 fans (sorry, yes, really) still know Imola well as the San Marino Grand Prix, as the race was called from 1981 to 2006, because the Italian GP was already occupied by Monza by name. But since the return from Imola in 2020, the race has been called the Emilia-Romagna Grand Prix.
Why did you choose a new name? Well, the reason for that is simply that you want to advertise the area Imola is in – not the independent state nearly 100 kilometers away, which Imola actually has nothing to do with.
Stefano Bonaccino, president of the region, clarified in 2020: "Imola has always been a natural place for Formula 1 and we have chosen to call it the Emilia-Romagna Grand Prix, in tribute to our region, the country engines par excellence."
---
8:55
RTL broadcasts its first race
Good news for all Formula 1 fans who don't have a PayTV subscription: RTL will broadcast the race on Sunday on FreeTV! The Cologne private broadcaster broadcasts a total of four passages. In addition to Imola, there will be races at Silverstone, Zandvoort and Sao Paulo.
However, RTL only broadcasts the race. If you want to see the qualifications or the sprint, for example, you should use the well-known methods – or just take a look at our live ticker 😉
---
8:35 am
Horner: P2 good starting point
With two pole positions and two victories, Ferrari came out the best of the starting blocks and already has a good lead in the World Championship with Charles Leclerc (here in the general classification).
The Scuderia had the advantage that, unlike Red Bull, they could just cancel 2021 and weren't in the World Cup fight. "Of course, they started this project much earlier than us, so we have some catching up to do," says Horner.
"But the fact that we are catching second fastest is encouraging and I think we are starting to understand some of the issues we are having."
---
8:20 am
Red Bull plays down Imola upgrade
After two failures in three races, Max Verstappen is determined to fight back with Red Bull. The team are said to have a major update at Imola to match Ferrari, but the Bulls themselves are playing down development and lowering expectations.
"I wouldn't say a big package is planned, it's all part of a development," said team boss Christian Horner when asked if Red Bull had any major developments underway for Imola. .
"And obviously being a sprint race you have very little time to assess those things. So we have a session and then it's qualifying. You have to be very confident about what you bring to the car."